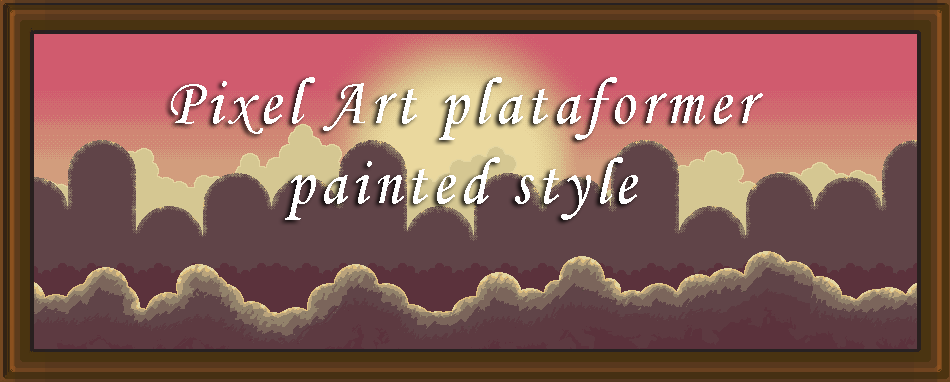 Pixel Art Platformer Painted Style
A downloadable asset pack
A set of backgrounds (with animated layers!) and tilesets that you can immediately use for your project with ease!

Features:

Themes:


1 Mountains and clounds. (with animated layers)
1 Forest.
2 Dungeons (with animated layers)
1 Mountain landscape (with day, night, sunset and dawn themes)
1 Lake. (update 3.0)

1 Library. (update 3.0)
1 Hills. (update 3.0)

Details:

All themes come with backgrounds with multiple layers and tilesets.

PSD and PNG files.
Example in PNG, PSD and Gif.

Feel free to send me messages or leave a comment if you have questions or need more info. Enjoy!
Purchase
In order to download this asset pack you must purchase it at or above the minimum price of $9 USD. You will get access to the following files:
Pixel Art plataformer painted style.zip
9 MB
Comments
Log in with itch.io to leave a comment.
FYI, there's a typo in the banner at the top: "plataformer".
Wow, amazing work! They have a really nice atmospheric feel to it.
Hey there! I made my first game in participation to the 2020 Summer Game Jam, and I've used your assets in it, specifically the "Night" folder. You can check out my game here: Bunny Girl Jump! I've also credited you in the descriptions page. :)
Anyway, it really fits what I'm going for. I initially wanted to make my own backgrounds and stuff, but I lack the ability to make something nice. I used my own tilesets though, since I'm really just experimenting around. I hope I can make something nice in the future to use in my games.
Thanks for using <3 since it's a paid asset you don't need to credit me, but i really appreciate!
What's the license for this? Are we allowed to modify the assets?

These are pretty!! Are these items that I could possibly use as overlays on my twitch channel (with proper artist attribution)? Or not, for copyright reasons? Just not sure. Thanks :)
Dear Eder
In June 2018 FUZE Technologies Ltd will launch a new coding platform called FUZE for Nintendo Switch. FUZE is a programming environment very similar to the 8/16 bit computers from the 1980's. It is a modernised version of BASIC with similar syntax to C and Python but retains the incredible accessibility and ease of use of BASIC.
At FUZE we specialise in getting children, of all ages, coding using a real text based environment and not by using a drag and drop block type interface.
FUZE for Nintendo Switch allows users to create and share their own games but the main focus is to help them to learn to code. Therefore it is more of an educational platform but the results are always games related.
To support the release and to ensure we provide the best possible experience we intend to include as much sprite, art and audio content as possible so that a wide variety of game types and styles can be achieved.
We have been scouring the web for CC0 licensed content. (we are a very small team – just three on the dev, design and content and as such we have little budget)
In each case we will credit the author and include their logo (if permission is given). For example a thumbnail is used to present the author for any given content.
With all this in mind I wanted to let know what we are up to and to ask if you would like to be more deeply involved. For example if there is any content you would specifically like us to include that might not be able elsewhere or even if you wanted to create something exclusive for the release. We will of course purchase this through the relevant channels.
In return we would include accreditation across all available channels (application, manuals, website, press releases etc.).
We are likely to generate a lot of very positive interest which can only be a good thing for all involved.
If you are happy to discuss further please contact me at contact @ fuze.co.uk
ps. this should not require any work on your behals as we are just talking about what is already available.
Kind regards
Jon Silvera FUZE Technologies Ltd
www.fuze.co.uk
@fuzecoding
+44 (0) 1844 239 432
This is amazing! I would love to work with you on a project!